I've been needing a recharge. Now, don't get me wrong, I have an amazing life! Jeff and I got married this past September, after 8 years of waiting, building our relationship, and parenting our boys. I'm still blown away by the depth of joy it brings, to weave our lives together this way.
My work allows me to live my calling. As the Equine Manager at Hope Reins, I have the privilege of working with some of the most dedicated, loving, and incredible people I've ever known. I am given powerful 4 legged teachers who hold a mirror up to me and encourage me to grow into the truer version of myself. As a life coach, I'm honored to walk alongside extraordinary souls, as they live into who God made them to be.
And… I'm an introvert. I recharge alone. I'm one of those folks who needs a bit of 'white space' on my page to find my balance.
This season has not offered much white space, and I'm learning how to create that in the midst of the abundance that is my life.
Jeff threw me a life raft this week and asked me if I'd like to go up to the mountains for the weekend, to the cabin where we spent our honeymoon.
Yes!! Please.
He's been running every bit as hard as I have, and when he blazed home last night, I had everything packed and ready to load into the truck, and off we went.
He drove us up to Hillsville, Va, just off the Blue Ridge Parkway, from the 20 degree cold of Raleigh, to the single digit cold of the mountains!
Dark comes early at this time of year, and we drove through the city lights of Winston Salem, and up route 52. When we left the lights below us, I started looking out the window at the stars. The Big Dipper was so close I could have taken a sip out of it.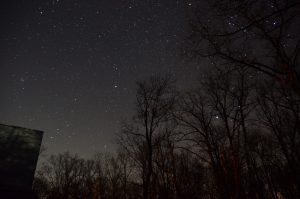 I love the stars! When I had my farm, I would lay down in the back pasture, look up at the night sky, and feel like I could fall up into them.
We pulled up to the cabin, unloaded the truck, and Jeff called me back outside into the brittle cold. He turned out all the lights, we stepped off the porch, and I looked up… into more stars than I have EVER seen. There were billions of them, packed together in a riot of celebration, twinkling blue, white, pink, orange, red…  
My heart flung open, and they poured their light directly into my soul. I could feel the places that had dimmed inside me begin to recharge. It was coming home, a pure gift.
There are many places I meet God, but last night He swept me off my feet, catching me up in His dance – bigger, wilder, more loving, more joyful than the paths I travel.
I had forgotten.
In the midst of the 'good' of my life, I had been making Him over in my image, shrinking His wildness into something more tame, and more anemic.
Something that can fit into the tiny spaces I've made for Him.
That doesn't work.
I need His wild. I need the billions of night stars that remind me that I am one of them. I need to touch the pulse of creation… through connection with a horse… through seeing the soul of another… through the world He created, and feel my belonging in it.