I'm not a thrill seeker. I'm not one of those folks who is hooked on adrenaline. True, my lifelong love affair with horses has me court high adrenaline moments on a more regular basis than some, but that's not the draw for me.
Unfortunately, I've spent more years of my life on the anxiety side of the spectrum, than the 'relax and go with the flow' side. That's not something I'm proud of, and have been working hard to change that over the last 10 years.
Jeff has encouraged me to confront my fear of physical danger in multiple forms, with riding motorcycles, and flying small planes being two of the more obvious ones. I've gone from gritting my teeth and getting through it, to really enjoying both of these activities.
This weekend, as a birthday gift to me, Jeff took me out to the southwestern tip of North Carolina, to "Ride the Dragon" on his 1983 Goldwing 1100.
The Dragon is an 11 mile stretch of road on US 129 with 318 winding, twisting curves, that follows a mountain pass from North Carolina through to Tennessee. It's a Mecca for motorcycles and sports cars. It's also WAY more challenging of a ride than anything I've ever done with him before.
We've gone up to the Blue Ridge Mountains in Southern Virginia on the bike, and love riding the Blue Ridge Parkway, but these are a different level of mountains, and The Dragon is a whole other level of road!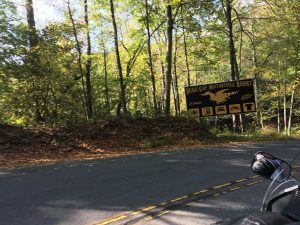 I was 'nervous/excited' about doing this!
The day was made to order… mid 70's, blue sky, white puffy clouds, and great fall color throughout the Smoky Mountains. Riding up to Deals Gap, where The Dragon begins, I could smell the Fall leaves, the warm earth scents, and feel the cool breeze soften the sun's touch. We followed a 2 lane mountain road, that ran alongside a river. The whitewater swirling over and around rocks and trees, looked like spun candy against the dark green of the water.
Trees clung to rocky mountain sides, their roots reaching out over the rocks for a foothold.
We rode deeper and deeper into the Smoky Mountains. The stillness of them seeped into my soul. It felt as though I were a child coming home, and they held me. Even as I sit now, in our motel room and type this, I can feel them outside, surrounding me, watching over me.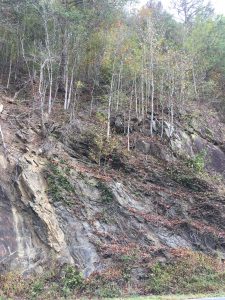 It seemed like we had ridden out of our world and into Aslan's Country. I was relaxed, soaking it all in, and savoring every moment… until we got to The Dragon.
A little history… I don't know why, but one of my anxiety triggers has always been riding on twisty mountain roads. I love them… and I've always been scared that we would lose control or go over the edge. It doesn't make sense, but I can take it to the bank, that when we drive on them, I've got a knot in my stomach.
We passed Deal's Gap where over 50 motorcycles were parked by the motel/tourist store; sport bikes, touring bikes, and bikers of every shape and size, gearing up for, or coming down off The Dragon. I gulped hard as we rode by and started up The Dragon.
It was as though the whole day changed. Gone was the stillness, gone was the peace, gone was the sense of the mountains gently watching over me. That old familiar knot commandeered my innards, and every muscle I had tensed.
With each tight turn, I waited for the bike to slip. Every sports car or motorcycle that roared past us going the other way, was a threat.
Jeff could tell I was holding my breath, and he not only navigated the challenging road, but reminded me to breathe, and reassured me that it was going to be alright.
I appreciated his efforts, but nothing was reaching me. Adrenaline was blasting through my body, and it was all I could do to stay inside my skin.
Somehow, between my gasps, and clenching up for every turn, I had the thought (not a new thought, but new for me to have in the midst of my panic) that my emotions were responding beautifully to the story I was telling myself.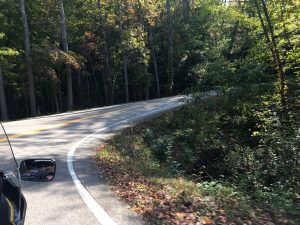 A narrative of "You're going to die," elicits a pretty intense response. I began to wonder, what would happen if I KNEW we would be looking back on this experience later in the day, safe and sound? If I KNEW we'd come through this, how would I be responding to the ride now, in the moment?
Adrenaline is a powerful drug, and I couldn't completely override it yet, but I could feel something begin to shift in me. It was a fight.
Not a fight to 'not be scared', but a fight to tell myself the story that would serve me better – namely, that we would look back with satisfaction, on this ride.
I hadn't realized how powerful the draw of an old story can be. But I felt like God was there with me, showing me the 'dragon' within that had been plundering the peace of my lands for most of my life.
I could run from him yet again, or I could turn and fight.
It was time to slay my dragon.
Jeff stopped at an overlook about 8 miles into the ride, to give me a chance to settle down. He was going to look for an alternate route back to where we were staying, so I wouldn't have to ride back on The Dragon.
There was no alternate route.
I sat on the stone wall at the edge of the overlook, surrounded by bikers taking a breather, and tried to find my own breath. I didn't want to run from my own dragon anymore. We would follow The Dragon back to Deals Gap, and I would do it differently this time.
It helps having 15 minutes to let the adrenaline wear off. I was breathing again. And I knew what I needed to do.
This wasn't a fight against fear… it was a fight to stay connected to the truth. And my bottom line truth is that I'm in God's hands. There's no better place to be than that, for me. I'm not going through my life afraid. I want to embrace all that life brings me. To live fully.
And I did.
The second leg of the trip was incredible! For the most part I thoroughly enjoyed the ride! The peace was back.
There was one time when there was a dip in the road, plus multiple twists and I got scared again. I could feel myself gasp, and clench up in a moment when the bike shifted, and then I turned myself back to the story that served me, and said to Jeff, "Okay, I'm back again." It took about 2 breaths.
He cracked up at me… wondering if I'd just had an out of body experience, and had returned. But I had just tangled with my own dragon, fought him, and won!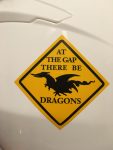 It was great pulling into Deals Gap, buying T Shirts, and a sticker for my helmet that said, "At the Gap there be Dragons". I think I even strutted a little.
We got pictures of us by the dragon there, and by the "Tree of Shame" laden with bike parts from all the crashes.
Looking at the sticker on my helmet now, I'm reminded that I have an open invitation to slay my dragons, rather than run from them. I know I'll have many opportunities to practice this. And it's one of the best gifts I could walk away with.