Yesterday, my life changed.
Jeff and I got married.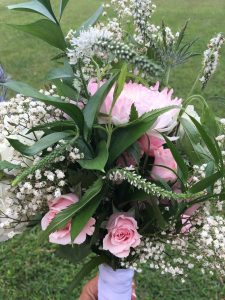 I wasn't anticipating the depth of the change this has wrought in me. For both of us, this is our second marriage. There's pain left over from a previous marriage. Scars. A reticence to trust, and fully open again. And we've worked through the majority of that in our 7 years together. But some residue remains.
So… this wasn't a 'new love' starry eyed idealistic plunge into a romanticized notion of marriage.
We've thought about this… planned for this… talked about all the ramifications… waited for timing… and processed this for 7 years.
And yet, my life changed.
I don't know what I was expecting, but the overwhelming joy, the outpouring of love, the fullness of my heart opening in those places where I didn't even realize that it was guarded, took my breath away.
The day itself was a fairytale for me. Surrounded by a community who loves and supports us, I was transformed into a princess, and Jeff was my prince.
Never in my life have I been so deliriously happy! I literally didn't know how I could hold it all. I kept stopping to breathe it in, and let it wash through me, opening me up to be able to contain more and more wonder.
Everything about the day was magical. So much love… So much outpouring… It left a watermark of God's love upon my soul.
I have never known such unrestrained joy.
And then, deep in the night, when I'm normally sleeping, God woke me up, and took me through another journey.
As I lay in bed, still washed in gratitude and joy, He began taking me back through my life. He took me back to visceral moments. Not ones that I would have considered especially significant, but one's that encapsulated the essence of each of those times of my life.
I wasn't watching these moments from the outside – I was within them, living them again. Only this time, I could feel God there with me so clearly, and while I was living them, He was showing me, like a piece of embroidery when you turn it over, how Jeff – the heart of who he is – has always been woven through each of those specific, individual times, and through my entire life.
I've always had a deep knowing that he has been with me, and I with him, our whole lives. And that I have been looking for him, KNOWING he was there.
But this was so much more.
From times in my adulthood, to the painful and turbulent years of my teens, to the innocence of my childhood, God took me back, over and over again – every time showing me the threads that were Jeff, woven through my life.
I was reeling, as He reordered my own understanding of my story.
Then, with each instance, it was as though I was given back that part of myself, on a level I didn't know was possible, and was able to bring that to the union that Jeff and I now share.
The experience of wholeness was something I've never known. It was a complete reconciliation and redemption of my past.
With that experience, my life changed.
Not just my future. But my past.
My story.
My entire understanding of who I am, and who God is, with and for me.
The gift of this marriage, of this man, with whom I have always shared my life, defines my world. And defines it in the light of Grace, and the great Love which holds us all.