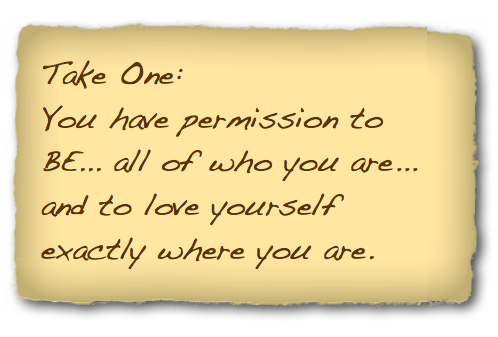 It's been a few weeks since I've written, and outside of some lingering guilt over not being consistent in posting to my blog, it's felt good to allow my thoughts to percolate.
I believe we all have recurring themes in our lives… lessons we came here to learn, and to share… and one of my big ones is "permission". Learning to give myself permission to be…  all of who I am. Permission to be messy. Permission to be scared, or overwhelmed. Permission to not have it all together. Permission to feel all of what I feel. Permission to be angry. Permission to love deeply. Permission to shine. Permission to be brilliant. Permission to be powerful. Permission to be vulnerable. Permission to be complicated. Permission to be me.
And still be loved.
Now, that last part's been the kicker. I can go off and be me, and not give a hoot about the response I get (and I've spent a lot of my life doing that)… but there's this need inside me to be loved – and loved for who I am. The old tapes can play pretty loud, when they're shouting at me to be what others want/admire/respect/need, in order to be loved. And the missing piece has been my own ability to love ALL of me.
I was talking with a client this week… a fellow sojourner, and we were exploring this topic of permission to be all of who he is, around his current life situation, when I said something that about knocked me out. I was remembering times when I've been scared, or overwhelmed, and not at my stellar best – and one of the things I've been practicing in this season of my life, is to offer compassion to myself when that's happening.
I found myself saying that this practice of extending compassionate permission to myself to just BE, has done more to shift things inside me, than all of my working to change.
You know the old drill…  first the negative thoughts: "What if…", "Oh no…", "I'm so hurt by…" etc. Then the fears/doubts/overwhelm set in.
And then when I recognize the track I'm heading down, out jumps another version of performance, as I attempt try to wrest myself from the hole I'm digging: "clear the energy", "focus on something good", "practice gratitude".
All these admonitions (though valuable in their place), when used to change where I am, only serve to reinforce the original message deep in my subconscious, that I'm wrong/bad/not okay… and I need to get myself 'somewhere else' in order to be okay again.
Hmm…   all under the guise of 'consciousness' and 'growth', I've reinforced that deep lack of permission to BE all of who I am.
Kinda sucks.
So, over the past year, I've been practicing this other way of being. Not in a formal style… but more like gentle remembering. When I get my undies in a bunch over something, rather than berating myself for ending up there again, I smile at the upset part of me, and love her. Of course I feel that way…  there are tons of good reasons why. Just listen to how I'm enumerating them in my head!!
But none of that is really the point, and I have a choice now, to offer compassion to myself when I find myself there. Because the point is that I need my own love and permission to BE. More than I need answers. More than I need help. More than I need any external situation to be solved. Those things are temporary.
The underlying need is to be fully who I am, and to be completely loved and accepted as me, by me.
So, as I was coaching this week, I began looking back over numerous instances in the last months when I practiced giving myself this loving permission to simply BE where I was. I was amazed that I couldn't recall the stories behind my upset. I couldn't even conjure up the contracted feelings of not being safe/loved/okay. What stood out to me though, was the warmth I felt because of the compassion I extended to myself. The impression of that is solid, strong and fresh… overriding the old fears/doubts.
I remembered back to when my boys were little ones – and they were hurting, angry, scared, frustrated…  and my trying to 'fix' the problem rarely got the results I was hoping for. When I would put everything down though, gather them up into my arms, and hold them, something would shift inside. Even when the problem couldn't be fixed, they would shift in their orientation to it.
I know, from my own work, and from my work with others… that when we hit those deep 'not okay' places within us, they usually go back to when we were really small. That's why we have such a visceral response to them.
So, what would happen, if instead of trying to 'fix' what's going on, or to change where we're at, we would just gather ourselves up in our arms, and love ourselves just where we are?
What I'm seeing, over and over again, is that without any agenda to change or shift anything, this loving permission to BE, meets the pain, acknowledges it, loves it, has compassion for us in it… and in doing so, transmutes our experience of that pain, and our relationship to it.
And ultimately… our relationship to ourself.
It's counter intuitive to love the parts of ourselves that we fear, or that are hurting. We're wired to withdraw from pain, not pour love and permission into it.
But I promise you… when we do this, everything changes. Like the sky brightening as the dawn approaches, our experience of our world changes color – our entire perception shifts.
It's one of the most beautiful miracles I've experienced.
I encourage you to play with this…  play with offering compassion and permission to yourself when you're hurting. And see what happens.
I'd love to hear what you're discovering along the way…
Celebrating You.
Elizabeth Love