Natural Horsemanship
Using your own horse, or one from Circle of Oaks, you will learn how to listen to the horse, hear and respond to what they are saying; building a true partnership. Spoiler alert: It's still completely about your growth!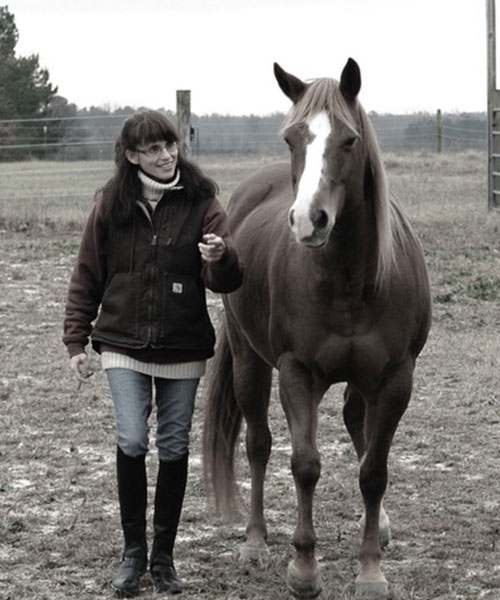 This is learning how to listen to a horse, and hear and respond to what they are saying. Spoiler alert: It's still completely about your growth! But this takes a different track. Here the focus is on the horse, on learning how they are talking with you, and how to join them in the conversation that they're having. This is for people who would like to develop both their own growth and their competency with horses.
I offer this work at your barn with your horse, as well as at Circle of Oaks in Rougemont, NC with the horses there. With your horse we can include riding. At Circle of Oaks, all work is on the ground.
Conversations with Horses
(No Horse Experience Required)
With natural horsemanship, you can utilize your own horse (groundwork and/or riding) or use the Circle of Oaks herd (groundwork only). Through this practice you will deepen your relationship with horses.
Our goals will be to:
Learn how to listen to your horse
Become someone your horse finds safe and interesting
Build a relationship with your horse based on trust and understanding
Recognize the voices in your head that push you to perform or dominate
Experience extraordinary connection with your horse
"I have been associated with Elizabeth Love Kennon for over seven years. In that time, I've had the privilege, blessing and honor of working closely with Elizbeth. Because of our shared love of horses, she has been a mentor and teacher beyond compare. Her genuine, sincere nature and incredible knowledge of Natural Horsemanship has laid the groundwork for the path I follow today. While I had a solid understanding of Equine wellbeing and interaction, Elizabeth has shared a deeper and more profound ability regarding what it is to be "in relationship" with a horse. Under her instruction I learned how to read a horse, understand herd dynamics, and know the feel of a horse, thus, giving me a greater understanding and appreciation for how to relate to this majestic animal. Using her invaluable insights and techniques, I have been able to greatly improve my own skills and approach to training."
Janiece, Atlanta, GA



We always begin this work on the ground. That is foundational for a relationship with horses. You will learn to read horses, recognize the conversations they're having, and join them in a way that is meaningful to both of you. We will look at:
Herd dynamics
Calming signals
Energy, focus, and intention
How to relate to the horse as a partner
Demystifying "feel"
Getting out of the horse's way
Communicating with clarity
Recognizing and rewarding your horse's "try"
These are the principles and skills I use in working with horses, putting foundations on them, restarting troubled horses, and helping horses feel safe and comfortable in their environment, and lives with people.
"Elizabeth was the first person I heard to articulate something I'd known all my life—that horses are sentient beings (or better said, horses are people too) and worthy of our respectful and compassionate relationships with them."
ML, North Carolina